As an extension of our yearly, state licensed program, The Co-op offers a flexible, age-appropriate, and educational summer FUN program for children ages 3 through 5 for seven weeks from June through August. Every day is a new adventure at Summer Fun!
Our play-based program is taught by experienced, certified teachers and provides children with the opportunity to express themselves through creative art projects, imaginative activities, music, movement, child-directed play, and plenty of outdoor time! This year we have added a special Pre-K Option that includes fun Kindergarten readiness activities that focus on language, literacy and math concepts. 
Two or four day sessions run from 9:00 AM through 12:00 or 1:00 PM. on Monday through Thursday. Early drop-off is available starting at 8:00 AM. 
Many Summer Fun activities take place at learning activity centers in The Co-op's spacious playground, which also provides the perfect setting for children to socialize while developing their gross motor skills. With several big climbers for building muscle strength, spinner bowls for vestibular stimulation and balance training, an over-sized sandbox, a winding bike path, and riding toys aplenty, there is something for everyone! We've recently added a music wall, group circle cycle and a digging construction zone.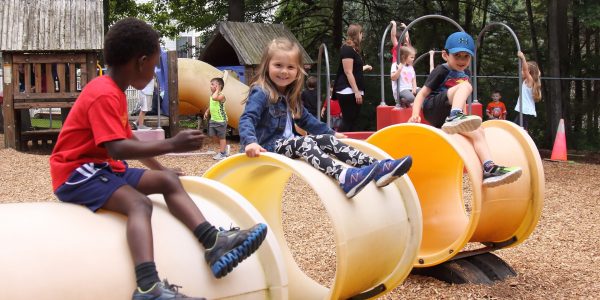 Summer Fun's themed learning units are filled with age-appropriate activities, through which children will be immersed in nature, make scientific discoveries, build their self-confidence, and have FUN! Your child will play, learn, and grow while exploring a new theme each week. Past themes have included: How Does Your Garden Grow?, Ooey Gooey Week, Ahoy Matey, and Fantastic Fairies & Forest Friends.